There are different cleaning methods, but chemical cleaning is becoming increasingly rare. Instead, the trend is toward natural methods that are ecological and environmentally friendly. For this, it is not necessary to scrub for hours and then look at deteriorated results. These are the reasons why dry ice cleaning is the best alternative in the industry.
Efficiency – Less cost and more benefit with dry ice blasting
Many are familiar with the rumor that dry ice cleaning is an expensive affair. Yes, there are some costs to keep in mind when it comes to ice blasting. However, the price of a dry ice machine for cleaning is much less than you might think. This is because, all things considered, cleaning with blasting equipment is gentler and definitely more efficient than dry cleaning. The cleaning process is much faster, which is why less working time can be charged. Although a higher hourly rate than usual is to be expected, the cleaning is completed much faster. No preparatory work is necessary and there is no need to clean by hand first. Cleaning agent residues do not have to be removed, as the dry ice turns into CO2 and leaves no residue. The cost-effectiveness of the method is as clear as day. The cost-benefit ratio is particularly profitable with dry ice cleaning.
Dry ice cleaning – A gentle and time-saving method in industry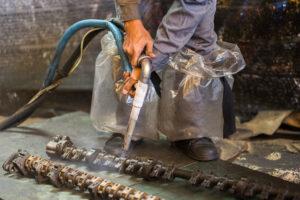 With a dry ice blaster, large areas are cleaned in no time at all. Long production downtimes are prevented because cleaning is fast and uncomplicated. At the same time, this method is one of the gentlest and most environmentally friendly. Objects to be cleaned are protected in the best possible way, as the surfaces do not have to be chemically treated. In addition, dry ice cleaning is an optimal protection against moisture and humidity, which means that electrical objects remain protected. This method is also used for facades and properties. The process gently cleans buildings and removes unwanted deposits. Once the elements are iced, they can simply crumble off the wall. Ice cleaning is suitable for almost any industry. The process is used in mechanical engineering, the automotive industry, packaging, electrical or steel industry. Especially the food, pharmaceutical and chemical industries benefit from the gentle process.
Cleaning with dry ice – The ecological cleaning for people and planet
In addition to the conditions imposed on companies to work more sustainably and to be more environmentally friendly, there is increasing pressure on companies and their image building. Since cleaning with dry ice is 100% free of harmful chemicals or blasting agents, entrepreneurs can have their businesses cleaned with it without hesitation. The dry ice has a germicidal and disinfecting effect.
New occupational health and safety standards in particular require regular disinfection and thorough cleaning of workplaces. Employees are thus protected from illnesses in the company and long-term absences are prevented. The image is preserved and the environment is protected. They do not generate secondary waste and also the production of carbon dioxide is nowadays only obtained as a by-product of other industrial processes. The CO2 blasting unit therefore works with resources that are already available. This protects entrepreneurs, but also employees and the planet.
Source:
elnur – stock.adobe.com // nabby – stock.adobe.com
Read more: